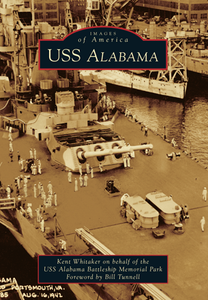 USS Alabama - Pictorial History - Signed by Author
Regular price $ 25.99 Sale
Signed by the author! - This book is packed with hundreds of images of the USS Alabama BB60 and contains a history of the United States military ships that were also named "ALABAMA." 
Powerful: this single word aptly describes a naval vessel known as a battleship. The USS Alabama (BB 60) was the last of four South Dakotaclass battleships built for World War II. She is well armored and designed to survive an attack while continuing to fight. Her main battery, known as Big Guns, consisted of nine 16-inch guns; each could launch a projectile weighing as much as a small car that could hit a target 21 miles away.
The Crew: Her crew numbered 2,332 men, none of whom were lost to enemy fire, earning her the nickname Lucky A. She served as more than just a battleship: she carried troops, supplies, and seaplanes and served in the Pacific and Atlantic; her doctors treated patients from other ships; she was the wartime home for a major-league ballplayer; the movie setting for Hollywood films; and she traveled home to the state of Alabama with the help of schoolchildren.
Author Bio: Author Kent Whitaker and Bill Tunnell, executive director of the USS Alabama Battleship Memorial Park, visually chart the course of the USS Alabama from the day her keel was laid to her present service as a museum ship and memorial in Mobile, Alabama.
ISBN: 9781467110211
Publisher: Arcadia Publishing
Images: 206 Black And White
Pages: 128
Dimensions: 6.5 (w) x 9.25 (h)