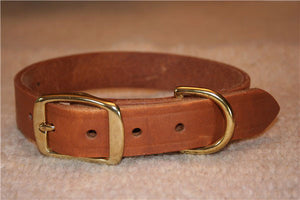 Up Cycled Leather Dog Collar
Regular price $ 20.00 $ 15.95 Sale
Our Up-Cycled Leather Dog Collars are made from leather cut from seconds, scrap, and repaired leather western horse saddles and tack. Don't worry, the leather is clean but may contain a few natural scratches. All snaps, buckles, and fasteners are new.
Specify Size when ordering.
Use a sewing measuring tape to measure your dogs neck or the size (using inches) of the current coll that fits your canine family member.
How to Size Your Dog!
First, dogs are not all the same. Secondly, many dog breeds are similar when it comes to collar size. So, the chart below is a guideline.

Always measure your dog before ordering a collar.

Always allow 2 -3 inches after you measure.

Collar width is 

important - a collar that is too wide for your dog may cause irritation and sores

.

Lastly, puppies grow - so the first collar is rarely the last.
Collar Size Chart! 
Small dogs: C

ollar length 8-11 inches long by just over half an inch wide

Medium dogs: Collar length 12-15 inches long by around three quarters of an inch wide
Large dogs: Collar length 16-19 inches long by around an inch wide.
Extra large dogs: Collar length 20-23 inches long by around an inch wide