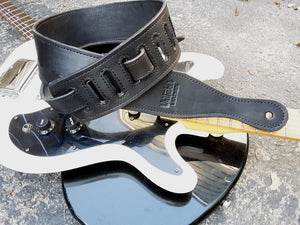 Classic Style XL Leather Guitar Strap with Optional Lining
Regular price $ 79.95 Sale
The Whitaker Leather hand-made Classic Style XL leather guitar strap is ready to complete your gear setup! Designed to be heavy-duty and comfortable - perfect for rock and roll, country, blues, and everything else!
Hand-cut premium veg-tan leather

Optional Suede lining
Heavy-duty stitching

XL means it is 2 1/2 inches wide for comfort and support

Adjustable

Wide slots for easy adjustment

Stitched adjustment slots
Choose from our Deep Black or Rustic Brown dye.
Each strap is made from real cow leather, cows tend to lean on trees, and fence posts and have brands - for an authentic look, straps may have these natural imperfections. 
Leather is a natural product and can stretch. It is recommended that all guitar straps should be used with strap locks/strap blocks. I use them on my guitars - even with straps I make! Always use a strap lock.